id3Finger Dialogs
User interfaces for fingerprint capture and identification
Enrolment and verification dialogs
id3Finger Dialogs Software Developement Kit (SDK) provides a simple and reliable means of integrating fingerprint enrolment and verification into your Windows application. The SDK reduces the complexities of fingerprint capture, quality check and matching to a few lines of code.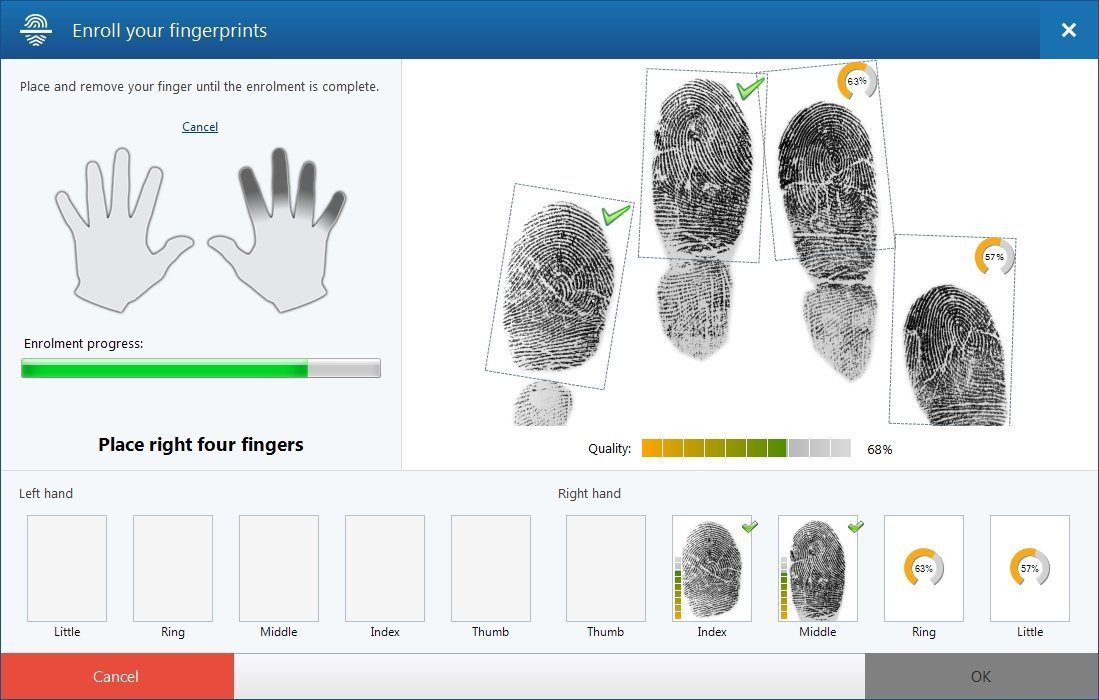 Ready-to-use dialogs for enrolment and verification.
Translated into 4 languages (English, French, Spanish, Portuguese).
Highly accurate minutiae detection algorithm.
Automatic segmentation of slap images.
Image quality check using NIST NFIQ algorithm.
Automatic capture from a wide range of fingerprint sensors, including tenprint devices.
Ability to capture 10 fingerprints.
Left and right hand detection with missing finger corrections.
Simple and comprehensive API that can be used with any .NET language such as C#.net or VB.net.
Automatic duplicate finger detection.
Full compliance with ISO/ANSI biometric data interchange formats.
Support of WSQ compression image format.
Our advantage
Advanced fingerprint algorithms
Our software development kit relies on more that 20 years of research and development in the field of fingerprint identification algorithms.
Proven Technology
Performance guaranteed by the most relevant benchmark, NIST MINEX III.
Interoperability
Full ISO/ANSI compliance for biometric data interchange with other systems.
Sensor Independence
Our algorithms are independent from technology used to capture the fingerprints.
Easy Integration
Available for Windows, Linux and Android.
Optical
Cogent CS500i, CS500e, CS500P,
Cross Match L SCAN 500P, Guardian, Patrol, Patrol ID,
Cross Match Verifier 300 LC, 300 LC 2.0, 320LC,
Dakty NAOS-1,
DigitalPersona U.are.U 4000B, U.are.U 4500,
Futronic FS50, FS60, FS80, FS88, FS90,
Green Bit DactyScan26, DactyScan26i, DactyScan40, DactyScan40i, DactyScan84n,
L-1 Identity DFR500, DFR2100,
Mantra MFS100,
Morpho MorphoSmart MSO200, MSO201, MSO300, MSO301, MSO350, MSO351, MorphoTop,
Secugen Hamster III, Hamster IV,
Suprema SFR200, SFR300-S, SFR400, BioMini, BioMini Plus, BioMiniSlim,
Suprema RealScan-10, RealScan-F, RealScan-G10.
Multispectral
Lumidigm Mercury M100, M300 and M31X sensors, Venus series sensor.
Capacitive
Covadis Auriga,
Precise Biometrics 200 Series,
Upek Eikon, Eikon II, Eikon Touch,
Zvetco P5500, P6000, P6500.
Thermal
id3 Certis Image, Biothentic,
Next Biometrics NB-1010-U.
ISO/IEC 19792-2 Finger Minutiae Record Format (versions 2005 and 2011),
ISO/IEC 19792-2 Finger Minutiae Compact Card Format,
ISO/IEC 19792-4 Finger Image Format (versions 2005 and 2011),
ANSI INCITS 378 Finger Minutiae Format (versions 2004 and 2009),
ANSI INCITS 381 Finger Image Format (versions 2004 and 2009),
IAFIS-IC-0010, WSQ Gray-Scale Fingerprint Image Compression Specification, Version 3.1,
Microsoft Windows Bitmap, BMP,
ISO/IEC 15948:2003, PNG,
ISO/IEC 12639, TIFF,
ISO/IEC 10918, JPEG,
ISO/IEC 15444, JPEG 2000.
C/C++,
C#, Microsoft .NET,
Java.
Windows XP,
Windows 7 – 32-bit / 64-bit,
Windows 8 – 32-bit / 64-bit,
Windows 10.
Want to know more?
Feel free to contact us for any further information.